I participated in my very first Fighter's Cup tournament yesterday and took second.  This is what semi-knockdown karate looks like; I never thought I'd be doing something like this; I just wanted to be a ninja with my son. But this is where the road leads in traditional Japanese Kyokushin Karate and so しょうがない as they say.
The video above is of my first fight – I'm in yellow. Unfortunately the referee was in the way of the camera at the most important moment. I used a left roundhouse kick to the face and it connected. To be honest, I felt pretty bad about it. I don't like violence, boxing, or MMA yet here I am. That kick ended the match.  In this style you cannot punch to the head/face but kicking to the head or face is OK.
In the second fight it was just a slugging and kicking fest and I kicked and punched more than the other guy so I won.  The video is pretty boring to watch so no need to post but I did get a nice action shot from our dojo photographer.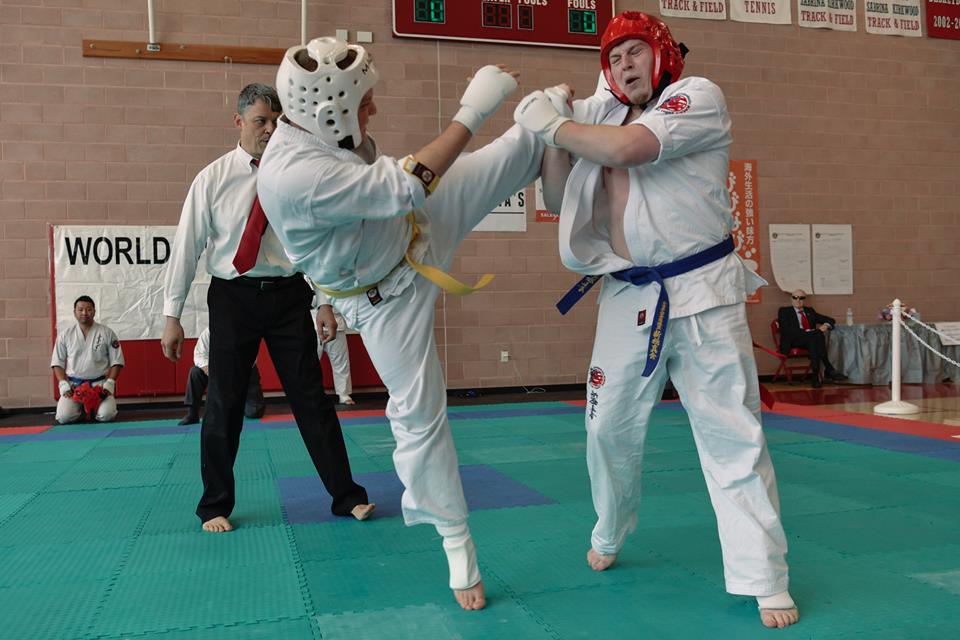 I had used up all my energy during that second match and didn't have much of a break until I was called for the third match.  We went at each other for a while but then he hit me with a knee kick to the stomach.  I took a knee and my body told me my energy was completely gone and that I could not get up so I lost the final.  Thinking back on it now I tell myself I could have gotten up and tried one more face kick but in that moment, absolutely not; my body forbade any further exertion.