1. The Ohio State University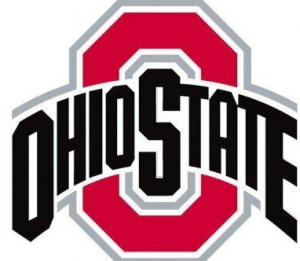 I majored in International Business and Spanish with a minor in French.  I was fortunate enough to be a student right when the brand new Fisher school of Business was built and it opened the semester following my admittance to business school.  We immediately went from a rather old, run down building to a brand new, state of the art facility complete with underground passages between buildings and could avoid the cold outside.  It was good to be a business major.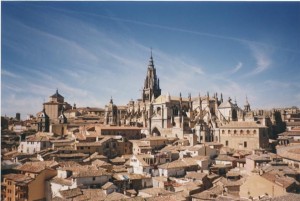 My passion however was in languages.  I had wanted to speak Spanish fluently ever since a post high school graduation trip to Hermosillo, Mexico to visit the hometown of a good friend.  I quickly learned that Spanish was an extremely valuable asset one could use to communicate with people and NOT just something they made high school students study in order to take difficult tests.  There is no better way to become fluent than actually studying in a Spanish speaking country.  So, through the vast and seemingly infinite resources and networks at Ohio State I had the incredible opportunity to study in Toledo, Spain.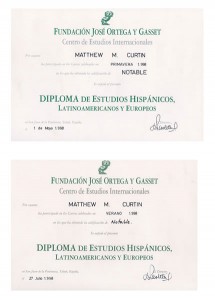 I spent six months at La Fundación José Ortega y Gasset in intensive Spanish study.  The thing about studying the language in a Spanish speaking country is you must actually use the skill in order to be able to do anything!  You cannot buy a train ticket, you can't order lunch, and in an ancient labyrinth of a city like Toledo, cannot even find your way without Spanish.  And since one cannot do anything without Spanish, my language skill improved seemingly on its own.  I received credit for these classes at OSU, learned Spanish and they gave me a few certificates!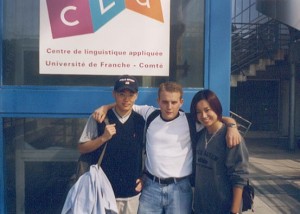 Learning Spanish gave me such confidence in my language abilities that I wanted to add another.  French seemed like a logical choice as it is a romance language and wouldn't be too strenuous as there are many similarities to Spanish.  Through the international department at Ohio State I found two programs back to back.  The first, a small family run school in Lyon, and the second at Le Centre de linguistique appliquée (CLA) in Besançon, France.  I earned credit at OSU for the courses, learned French and was even awarded another certificate!  I am still able to speak and understand French but without practice it has become, as my French professor Madame Busson used to say regarding my French ability, "une catastrophe."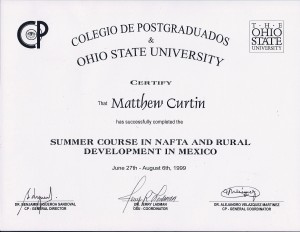 Finally, I spent two months in Mexico studying the North American Free Trade Agreement (NAFTA) through Ohio State's international department.  This was an incredible opportunity to enhance my Spanish language skills while also completing requirements for my International Business major.  The program was based out of El Colegio de Postgraduados in Texcoco, Mexico.  This was an intensive program that required us to visit different industries throughout Mexico including agriculture, manufacturing and services to better understand how NAFTA would affect their businesses.  We received course credit and a certificate!
I'll always remember my time at Ohio State and the excellent education it gave me.  OSU is also rather impossible to forget as the football team goes for a national title seemingly every year and it is all over the news.  Scarlet and Gray runs deep.

2. Waseda University (早稲田大学)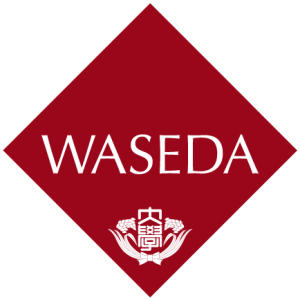 After I graduated from OSU my only goal was to find a job overseas.  Through the internet I was able to find an English teaching opportunity at Nova in Japan.  Throughout that first year I took Japanese classes at small local schools on during my days off.  I quickly realized however that Japanese didn't come as naturally as Spanish and French had; I would need to study even more intensively.  So, I applied to Waseda, was accepted, and arranged my schedule so that Japanese classes would be in the mornings/afternoons and I could continue teaching English at night.
I spent two years studying Japanese and over time I slowly began to understand the world around me.  I went from communicating with hand gestures and complete illiteracy to being able to interact and actually participate in society!  Being able to speak Japanese is the reason I landed a job at Japan Airlines but the main value of learning Japanese isn't in job prospects.  The value is in life itself.  The ability to understand a different language brings with it a vastly different mentality and way of thinking which in turn opens up a completely new way of seeing the world.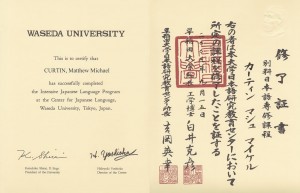 During my time in Japan I met and ended up marrying a wonderful Japanese woman and so it naturally follows that I continue speaking Japanese on a daily basis and it is the main language spoken in our home.  I wouldn't be able to speak Japanese without the excellent instruction from my professors at Waseda.  I didn't earn any university credit but I did learn to speak Japanese and they even gave me a certificate!