We took a trip to Montego Bay, Jamaica on the 8th of March.  I won 'Best in Class' again at work and thought it would be a nice getaway.
It was more difficult this time to find interesting things to do.  Yes, boozing at the swim up bar at the resort is always fun but if I'm going to travel to another country I certainly want to learn about its history and visit the historical sights.  There isn't too much to see in Montego Bay since at emancipation the former slaves burned most of the history down.  I had already visited the Great House at Rose Hall and I really had to research for other things to do.
I had thought about going to the Appleton Rum estate but it was two and a half hours away so that was out.  Eventually I came across two other great houses that weren't too far from the Hyatt Ziva and so it is there we went.
The first thing I did was contacted my buddy Mike who owns Mike's Transportation.  He showed us around last year and little did I know that he is the owner!  I specifically requested him and being coy he responded it was no problem not letting me know he is not only the owner but the only driver.  He is a great guy and I would recommend him to anyone wanting to get out on your own in Montego Bay.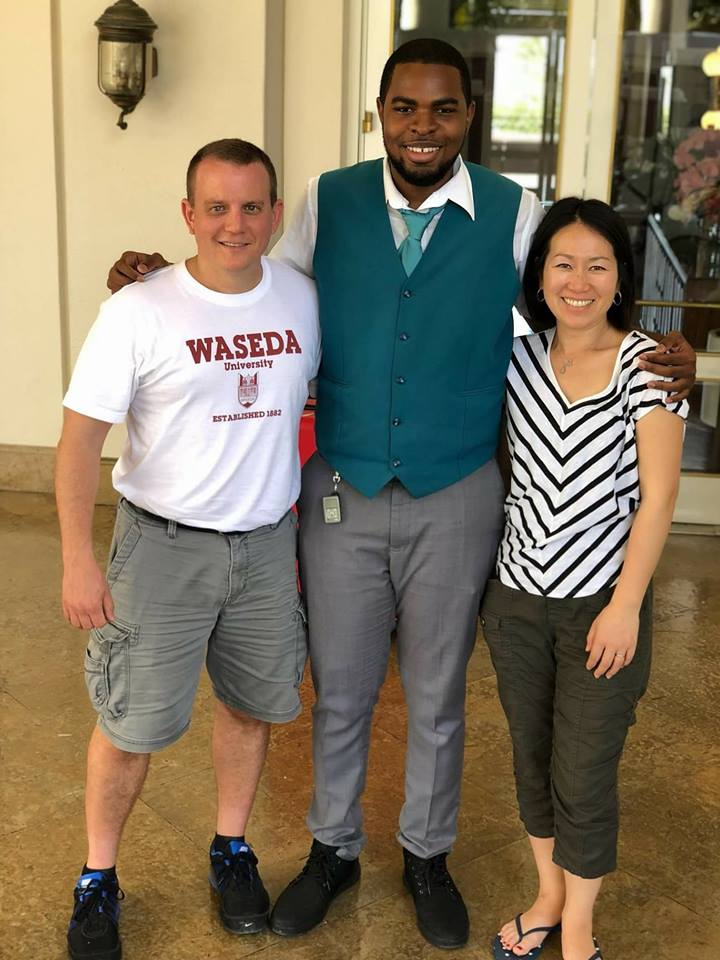 I was a bit concerned because just a few months before the Canadian and UK embassies warned tourists to stay in on the resorts as the government had sent out the military in a show of force.  Apparently there had been some gang violence that was causing trouble.  The only time we saw the military was at a checkpoint between St. James and Trelawny parishes.  There were big guys in military fatigues with big guns who simply waved us through.
Greenwood Great House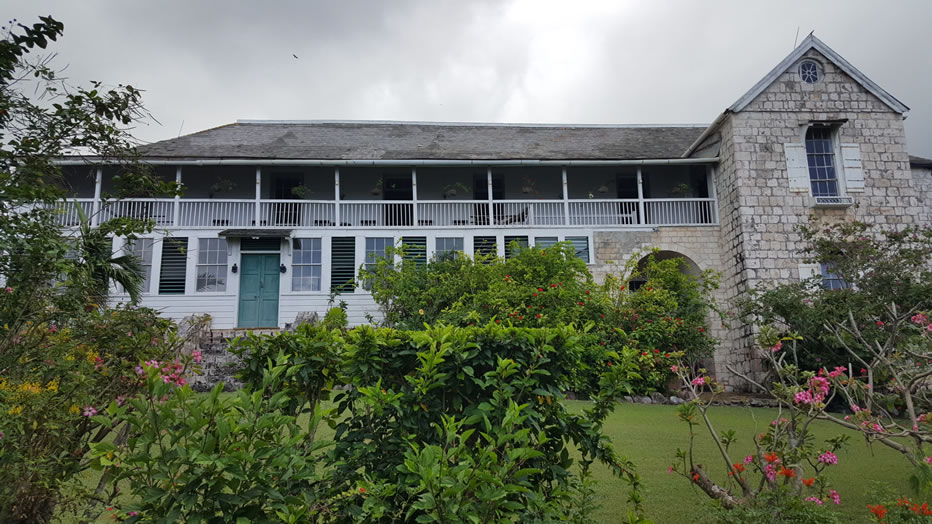 Our first stop was at Greenwood Great House .  It took a little longer than I expected to get there and when we arrived we were the only visitors.  We were greeted by a lovely young lady who opened the gate and started the tour.  The first room we came to was a spectacular dining room very representative of something you'd see on Downton Abbey.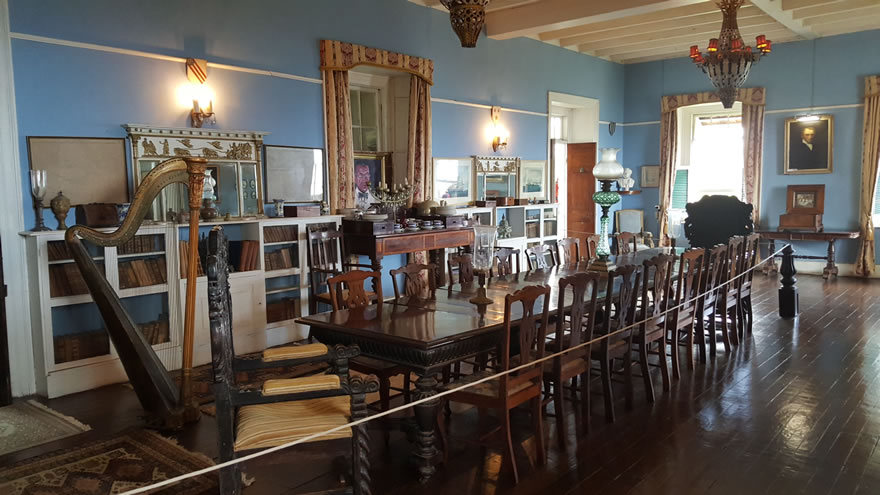 In the hallway we saw a few articles one of which got my attention.  It was of Thomas Sayers, a bare knuckled boxing champion of Victorian era England.  I wouldn't have known who he was if it wasn't for an article "Who will be remembered in 1,000 years" on the BBC.  In the article the author takes a tour of London's Highgate cemetery and asks if anyone knows who Thomas Sayers is.  Nobody does even though he was one of the most famous people in England at the time.  The article goes on to ask if any of us will be remembered as time marches on no matter how famous we become.  I often asked that question when I read about the House of Valois .  They were the royalty in France starting in 1270 yet nobody remembers them now.  To think about the passage of time and how we will all be forgotten is very humbling and reminds us to enjoy the life we have, not worrying about trivial things such as fame and fortune.
After looking at the articles of Thomas Sayers and speaking a bit about the article I read we went upstairs.  Now I had a hard time taking this picture because I really wanted to capture not only this upstairs dining room but also the incredible view of the ocean.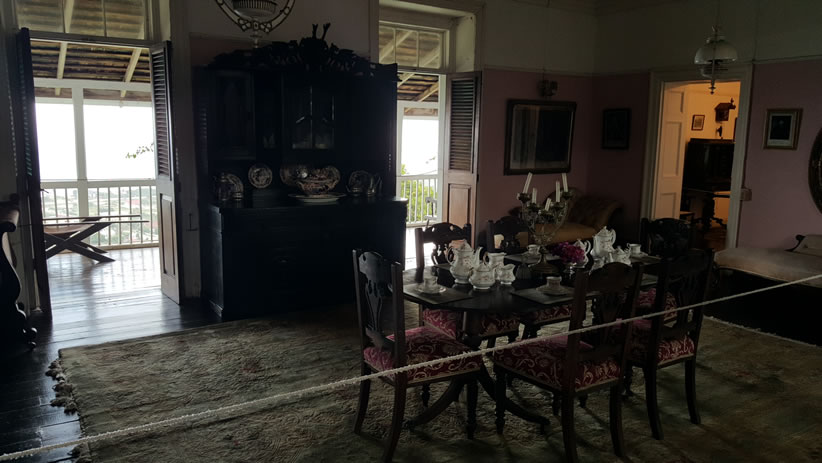 As you can see I failed spectacularly as this was the best I could do. It really is a beautiful room and made me think about how idle of a life these people must have lived. Their slaves are busy working their lives away outside while the owners sit, drink tea and slowly go mad due to boredom. To leave England only to live a very slow life in on an island in the middle of the ocean isn't one I'd choose for myself.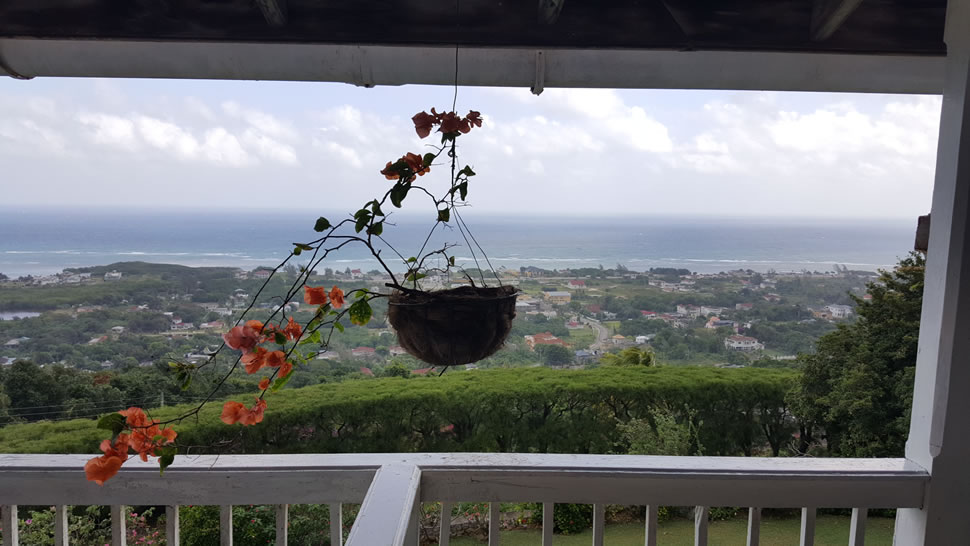 I wanted to ensure I captured the view so found some beautiful hanging plants out on the patio. I imagine how the women of the house must have sat out here admiring the view wondering what is going on and what they are missing out there in the great, wide world. I imagined the slaves being transported from Africa to this strange land and having to live a terrible life of slavery. They were ripped from their homes, most likely by an African warlord, never to see their relatives again. They were shipped under terrible conditions to this rock and then subsequently wiped out the native inhabitants.
As always, I like to visit the bar on the estate and just think about the passage of time and all that has gone on in the world with a nice glass of Appleton Rum. The bar here is called "The Level Crossing" and was tended by an elderly woman who seemed just a shade of a being only answering questions with a word.
Me: Do you have rum?
Her: Yes.
Me: Is it aged?
Her: No.
Me: Ok, one please, double shot.
Her: $3 dollars.
It turns out that she still lives there and must be a descendant of the original owners. It looks like she lives a very slow life and years of idleness have taken their toll. What a life to just be wasted away tending a place which belongs in the past.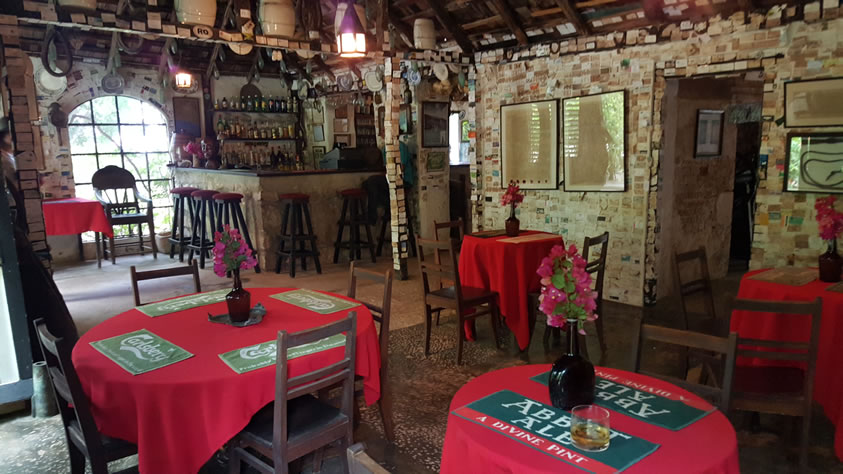 Great Hope Estate
Our next stop was the Great Hope Estate and it took a while to get here.  I was slightly disappointed that it was not a stand alone place but had turned into an "adventure theme park" owned by a company called Chukka.  I only wanted to see the Great House but it was packaged in with other stuff I had no interest in and was pretty expensive.  I sprung for it as it had taken a while to get there and after lunch we took our tour.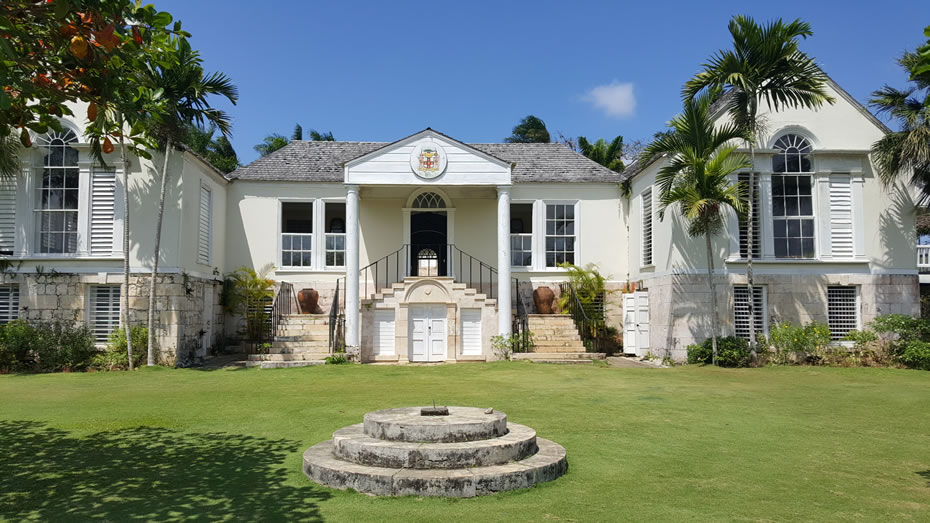 The rooms were much of the same and the only things that stood out to me were learning that the owner was kind to his slaves and even had a hospital for them. There was also a grave of the owner's young wife, Elizabeth Williams I'll come to soon.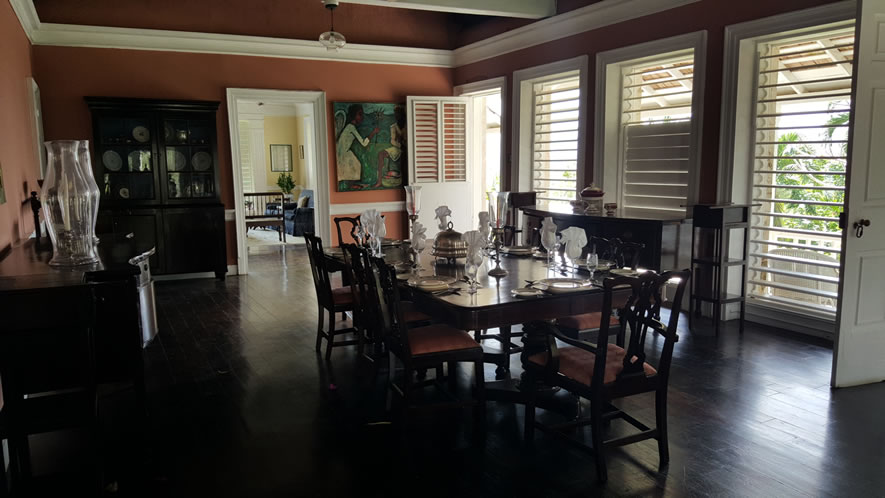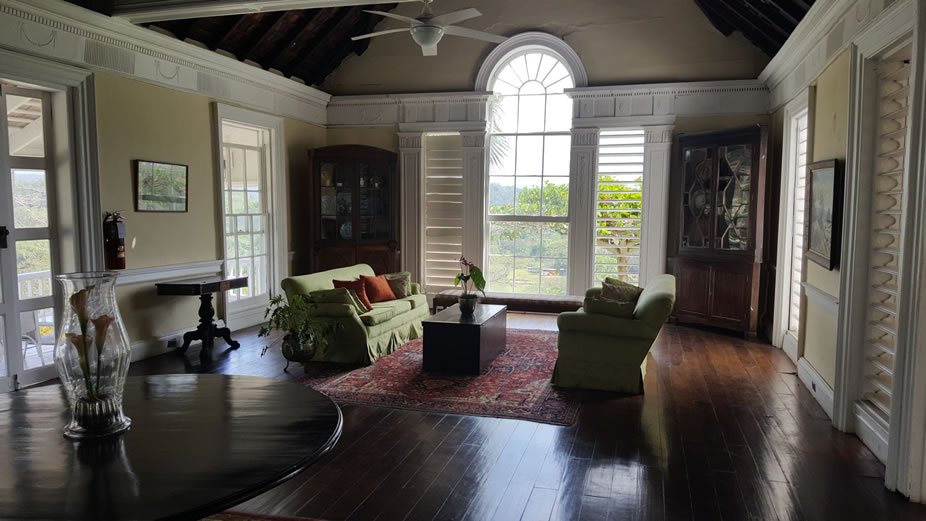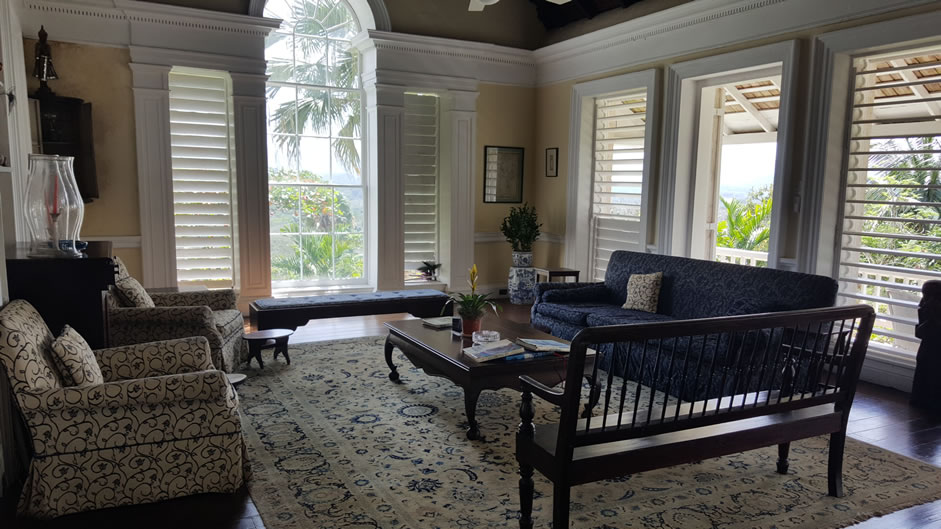 This estate was further inland so no ocean view.  My favorite part of this tour was learning that Elizabeth Williams was still on the estate, buried in a room with no furnishings and nothing but her grave and an explanation.
Elizabeth Williams
Elizabeth Baker Williams came to Jamaica as the beautiful young bride of Colonel Thomas Williams, a grandson of one of the first settlers on the Island after its conquest by the English.
The young couple was madly in love, and Elizabeth was very flattered when, in 1755, Thomas built the magnificent Great House in her honour at the Good Hope Estate.
Elizabeth's industriousness, charm, and compassion kept her busy entertaining, managing the house, and attending to the young couple's visitors.  Frequently, friends, family, and guests were known to spend more than two weeks at a time at the Estate.
When Thomas was away on business, she helped the Estate overseers by keeping the accounts and managing the plantation.  Elizabeth also spent much of her time writing in her diary and tending her extensive gardens.
Even though yellow fever, malaria, and cholera were prevalent in tropical areas in the 1700s, Elizabeth did not wish to leave Good Hope.  This was contrary to the behaviour of most other planters' wives, who lived in England because of those diseases.
Thomas was devastated when, after a few short years of marriage and at the young age of 24, Elizabeth died of malaria.  As requested, Elizabeth did not leave Good Hope:  Thomas ensured that she was buried right here.
Finally, another interesting point was that the colonialists didn't use the 's' sound and substituted in a 'p.' When we first visited we learned that they thought the 's' sound was too difficult to pronounce. It made me think of how hard life was for the slaves yet the English women couldn't even make the effort to pronounce the 's' sound. This is another reason it makes me think they all must have gone mad due to their life of idleness.
Here is a map of our journey: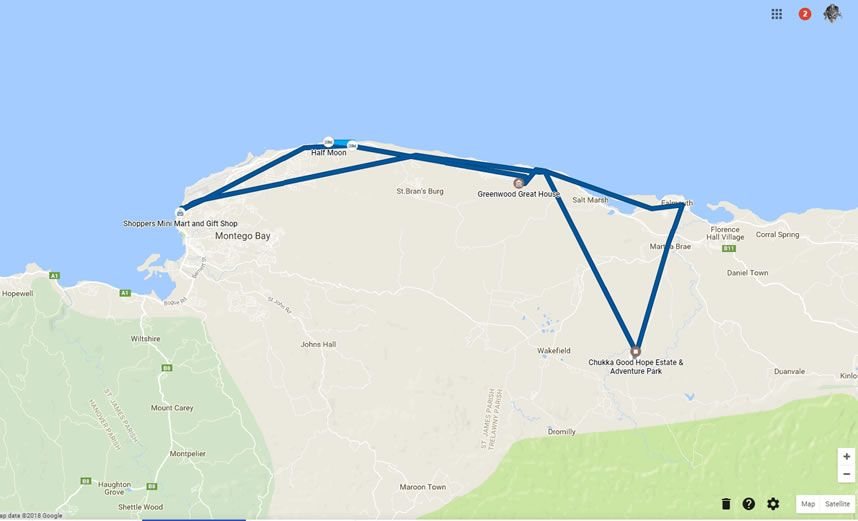 And so, our trip came to an end and I wonder if I'll ever visit Jamaica again. The world is so big, there is so much history and things to learn. It is hard to believe that most people will never leave their own countries even in this day and age of jet travel. The spark of curiosity is never lit in their minds and so humanity stumbles through generation after generation until we all meet our death. And who will even remember us?
That is why I write this blog. I wonder if anyone will read these words 1,000 years ago and learn about a guy who was curious, who wanted to get out and explore and what life was like here in the year 2018.